International Day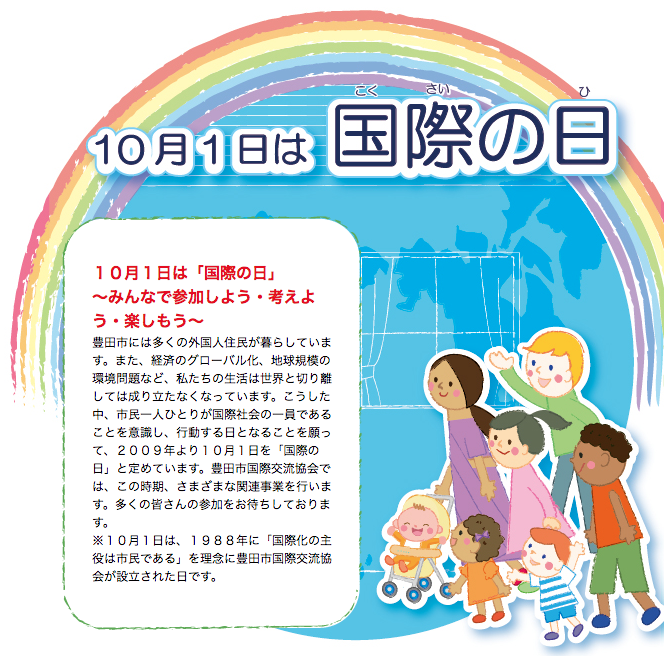 「International Day」What's International Day about?
How can I be a part of this?
Let's put our thoughts together
Our lives are intertwined with other individuals from around the world in some way or other. In that regard, how about coming together to discuss what's going on in the world we share, or issues impacting our own lives and the lives of others, or, on a more specific note, situations regarding the workplace?
Let's share our views on the matter
Here, in Toyota City, over 4% of the population is of foreign background. You are able to make friends and exchange views with people from many other countries, as well as your very own, at some of the International Day events organized at TIA.
Let's experience the world
Toyota City has a variety of international shops and restaurants. You can enjoy information related to these entities, or shop and dine in style locally with your family or friends.
Let's study
We offer classes in foreign languages, and organize and conduct international seminars, etc.
Also, you can just stop by our International Corner to catch up on international news and information.
Let's enjoy world cultures, art, and sports from around the world
In Toyota City, where we've got museums, a concert hall, a stadium, and hands-on learning facilities, etc., various internationally acclaimed works of art, or world class sporting events can be enjoyed here. Furthermore, at TIA, we offer the opportunity to learn about different countries during our National Day events held at the Toyota Global Square, approximately twice a month.
How about doing some volunteering?
Have you ever considered being a host family, or teaching Japanese language, introducing your own, or even the Japanese culture from a foreiner's point of view? How about volunteering as a translator or an interpreter? At TIA, you can play a major role towards internationalization in a number of different ways, according to your experience, as a volunteer. You are welcome onboard anytime!
The International Day event of 2020 was held at Toyota Ecoful Town on December 6th, in collaboration with a special event called "STREET & PARK MARKET SDGs x Christmas." TIA opened a booth where visitors enjoyed an interesting workshop to make their own Christmas card and handicraft as well as experiencing "Molkky," a popular sport in Finland. The 4-meter tall wooden Christmas tree you might have seen in 2019 was also set up at the venue in 2020.  We really appreciate that a lot of citizens visited and enjoyed the market. If you would like to know more about the market, please browse through our Facebook or "TIA Report," which will be published soon.