International Day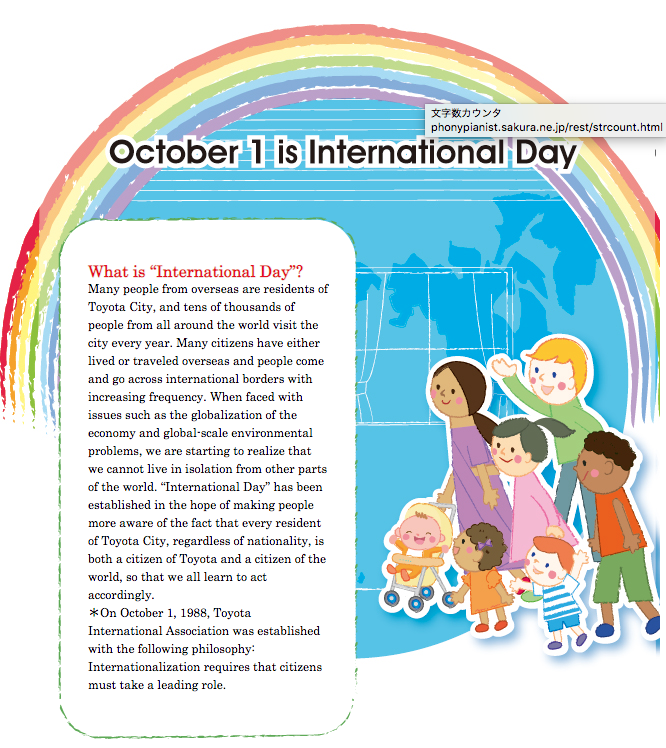 「International Day」What's International Day about?
How can I be a part of this?
Let's put our thoughts together
Our lives are intertwined with other individuals from around the world in some way or other. In that regard, how about coming together to discuss what's going on in the world we share, or issues impacting our own lives and the lives of others, or, on a more specific note, situations regarding the workplace?
Let's share our views on various matters
Here, in Toyota City, over 4% of the population is of foreign background. You are able to make friends and exchange views with people from many different countries, as well as your very own, at some of the International Day events organized at TIA.
Let's experience the world
Toyota City has a variety of international shops and restaurants. You can enjoy information related to these establishments, or shop and dine in style locally with your family or friends.
Let's study
We offer classes in foreign languages, and organize and conduct international seminars, etc.
Also, you can just stop by our International Corner to catch up on international news and information.
Let's enjoy world cultures, art, and sports from around the world
In Toyota City, where we've got museums, a state of the art concert hall, stadium, and hands-on learning facilities, etc., various internationally acclaimed works of art, or world class sporting events can be enjoyed here. Furthermore, at TIA, we offer the opportunity to learn about different countries during our National Day events held at the Toyota Global Square, approximately twice a month.
How about doing some volunteering?
Have you ever considered being a host family, or teaching Japanese language, introducing your own, or even the Japanese culture, from a foreigner's point of view? How about volunteering as a translator or an interpreter? At TIA, you can play a major role towards internationalization in a number of different ways, according to your experience, as a volunteer. You are welcome onboard anytime!
2021年の「国際の日」交流イベントは、10月1日~3日に産業文化センター1階・3階にて実施しました。
ボランティアグループの活動紹介展示に加えて、ボランティアグループの皆さんの協力の下、ワークショップ形式でスタンプラリーを実施しました。
ベトナムのスポーツ「ダーカウ」体験や、おりがみ体験、
アメリカのデトロイト州について英語で学ぶ講座などを行い、ご来館いただいた大勢のみなさまに国際を感じ、考えていただく機会となったと思います。
実施内容
・ボランティアグループ・TIA事業のポスター掲示
・ベトナムのスポーツ「ダーカウ」体験
・おりがみ体験
・国旗コマをつくろうワークショップ
・フェアトレード製品販売
・フリートーク Let's ask and talk with Sean!(アメリカ・デトロイト州紹介)
チェ ベトナムの「ダーカウ」体験

Let's ask and talk with Sean!

Child Needs Homeによるミャンマーフェアトレード製品販売

Alpha日本語教室による「国旗ゴマ」ワークショップ

オリガミをつくろう

ポスター展示