Introduction to Japanese Culture Group
Introduction to Japanese Culture Group
Activities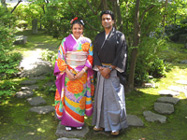 This group has introductory classes for overseas visitors to the city of Toyota and foreign residentes living in this area to enjoy the "flavor" of traditional Japanese cultures.
Details of Activities
-tea ceremony, flower arrangement, calligraphy, kimono wearing, origami and Japanese post card art through each experience
-events to make traditional Japanese foods together with foreign friends several times a year
Days/Times of Activities
Regular Meeting: 3rd  Tuesday of every month, frm 11:00 a.m. to noon
Contents:
Tea ceremony, Thursday, 10:30 a.m. to 4:00 p.m.
Flower Arrangement, Tue. & Thurs., 1:00 p.m. to 3:00 p.m.
Calligraphy, Wednesday, 1:00 p.m. to 4:00 p.m.
Kimono Wearing, Wednesday, 12:30 p.m. to 2:30 p.m. & 1st/3rd Saturday of every month, from 10:00 a.m. to noon
Origami (Paper folding: ,making objects appropriate for each season), Wednesday, 1:00 p.m. to 5:00 p.m.
Japanese post card art (Making objects appropriate for each seaon), Wedsday, 1:00 p.m. to 5:00p.m.
Appllication
Applications are accepted in Japanese, English, Chinese and Portuguese at TIA
Message
We are now recruiting anybody who wants to participate in our activities as teachers of Japanese traditional culture.