Let's Enjoy Sleighing in the Snow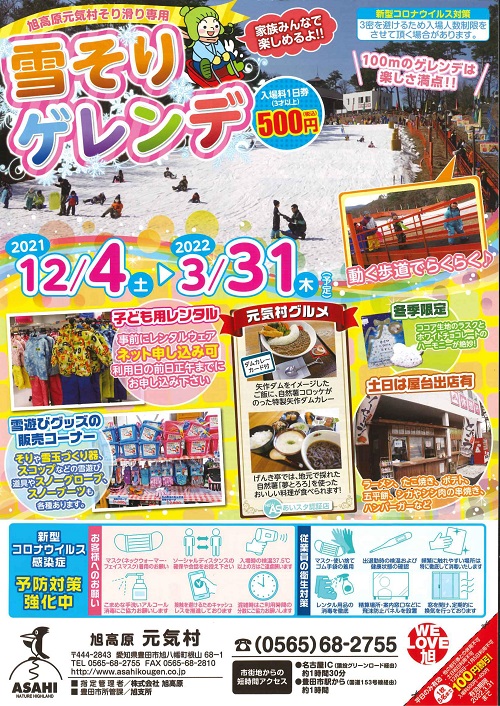 Event period

Saturday, December 4, 2021 ~ Thursday, March 31, 2022



Event hours

9:00 a.m. ~4:00 p.m.
The special opening event : Dec. 4 & 5 11:00 a.m.~11:15 a.m. and 11:00 a.m.~11:15 a.m.

Event place

Asahi Kogen Genkimura

Contents

Asahi Kogen Genkimura, located in the Asahi area, is the only facility in Toyota City where you can have fun sleighing in the snow. The snow is artificially made, and, therefore, provides great conditions to enjoy yourself the entire winter. Go sleighing in the snow, and take in the breathtaking sceneries along the journey to and from your destination!

Application

If you would like to rent outfits like a ski suit, boots, or gloves for children, please make a reservation online (https://www.asahikougen.co.jp/snow.html) or on the phone (0565-68-2755) by noon of the a day before you plan to visit the venue.

Access

Approximately 60 minutes by car from the Toyota City downtown

Fee

Admission: 500 yen (3 years and up)
*550 yen to rent a sled

The items listed below are only available for children, and reservation is recommended online or on the phone.
*2550 yen to rent a ski suit
*700 yen to rent snow boots
*500 yen to rent gloves
*3500 yen to rent a whole set of outfits (a ski suit, snow boots, and gloves)

Notes

・Please bring cash for your admission, etc. (credit cards are not accepted).
・There are coin lockers (100 yen) and a heated dressing room.
・There is an indoor playroom with toys available for children.
・The facility is closed on Thursdays (except December 30, 2021, January 6, and March 31, 2022).
・The facility will be open during the winter break except on December 31th and January 1st.
・Depending on the temperature and snow condition on the slope, the space for sleighing might be limited.
・Since snow shortage might be expected in December and March, the slope and outdoor playground might be limited for use.
・The fee for dry-cleaning or repairing rented outfits might be covered by the user if the outfits are very dirty or damaged.
Event place
68-1 Asahiyawata-cho Toyota City