TOYOTA TOWN ART FESTA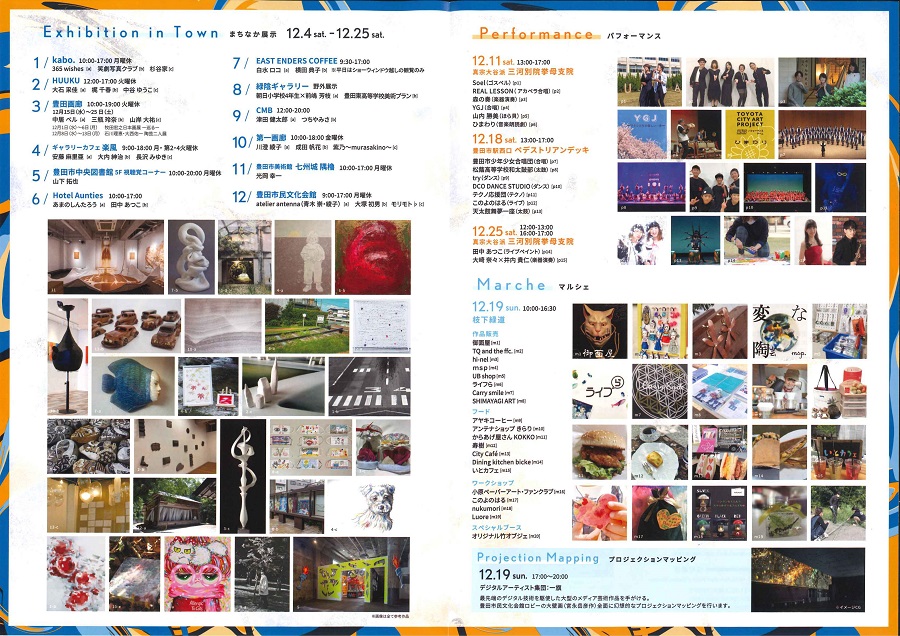 Event period

Saturday, December 4 ~ Saturday, December 25, 2021

Event hours

9:00 a.m. ~ 5:30 p.m. (depending on the program)

Event place

Several venues including the area around the Meitetsu Toyotashi Station, the Toyota City Cultural Hall, Kirakutei on the property of the Toyota Industry and Culture Center, and the Shichishu Castle on the property of the Toyota City Art Museum etc.

Contents

The Toyota Civil Art Project aims to support various programs of art and culture and to encourage more people to get involved in art through events like the Toyota Town Art Festa. In December, 2021, different places in the downtown Toyota will turn into great places where you can enjoy wonderful art works, stage performances and shopping. Why don't you walk around the city and have fun?

Application

Not necessary

Access

A(n) 1-minute~30-minute walk from the Meitetsu Toyotashi Station (depending on the venue)

Fee

Admission is free. Crafts, food, and drink will be on sale.

Notes

・Please wear your mask to prevent the spread of COVID-19.
・Please be aware of the necessary protocols according to the new lifestyle, such as sanitizing your hands, keeping social distance and practicing the proper etiquette when coughing or sneezing.

Event place
Information Center at Toyoshiba : 2-166 Kitamachi Toyota City