Alpha Japanese Language Classroom
Alpha Japanese Language Classroom
Outline of Activities
We are a volunteer group that teaches Japanese language to people from other countries who are living in Japan.
<Purpose>
①We aim to help those foreign residents whose greatest trouble is the "L-A-N-G-U-A-G-E," to speak Japanese easily and politely on the jog or in their daily lives.
②We aim to broaden the circle of exchange by eliminating the segregation between students and volunteers.
*1 and 2, above, are our main purposes, but in our activities, both are given equal importance.
<Group Appeal>
Ever since our establishment in May, 1992, we have continued to be an active group in Toyota City.  Compared with the small number when we were first established, we now have an increasing number of students and there was even an occasion with an enrollment of over 200 students on the first day of the class.  We feel deeply that times have changed.  Therefore, we strive to undertake a large variety of activities to address what has become an obvious reality. As is evidenced by the huge increase in the number of students, there is nothing more important and indispensable for individuals of the foreign community living in Japan than acquiring the Japanese Language.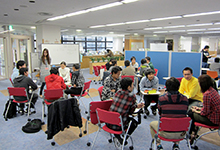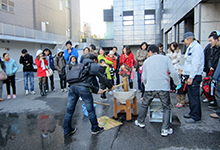 Details of activites
-We provide Japanese Language Classes.
-For the purpose of cultural exchanges, we generally hold a final party and other events (e.g.: rice pounding to make rice-cakes, flower viewing, etc.)
Days/Times of activities
One term lasts 3 months, and there are 3 terms annually, starting in May, September and December. Basically, the activity time is devoted to imparting the Japanese Language every Sunday, from 10 a.m. to 12:30 p.m. (classes are from 10:30 a.m. to 12:30 p.m.), during each term. Meetings are held whenever necessary.
Message
We are always recruiting volunteers who want to take part in our activities together. You need not worry about such things as: "I have no qualifications," "I wonder if I am able to do a good job." Even if you are just a little curious about our activities, then, please come and see for yourself!

*Please be aware that we have temporarily ceased our program in order to control the spread of the coronavirus pandemic. We will inform you when the situation changes. Thank you for your understanding.